Mostafa Asal (Egy)  3-2 [4] Paul Coll (Nzl)   8-11, 11-9, 4-11, 11-3, 12-10 (103m)
Oh boy, not an easy quick done and dusted in 5m report that one. 103m: 21m, 23m, 16m, 10m, 33m. You have a pretty good idea how it went… Very hard first two games, then the next two each dominating one, and then…
I love the player Mostafa will become. He still has got things to learn, things to rub off. He already has. He used to block a heck of a lot. Today, his movement was impeccable, it's only in the fifth that Paul complained about it, between a short period, 4/4 to 8/7, and was warned by the ref that if he continued in that vein, he would be penalised.
Strangely enough, Paul got actually penalised with strokes much more than Mostafa, 3 strokes in the 1st, 6, yes, 6 strokes in the second!
Now, today, Mostafa was asking for far too many lets at the start of the match. He was trying to get cheap strokes and it didn't work. And he kept doing it for a while, till he finally got the message bless him. Paul was not impressed. Mostafa was working pretty hard, and often asked for the authorisation to clean the court a bit too often to the NZ's taste. Paul was not that impressed. Mostafa was celebrating the point before the complete end of the rallies, Paul was not impressed either…
All that to say Mostafa was getting on Paul's nerves, it was obvious to me anyway…
From 2/2, 3/3, 4/4, 5/5, 7/7, Paul gave it a big push, 11/8, with the young man losing a bit his "it's a practice day" feel he had the whole event, and being a bit too excited. Experience did the talking in my view.
To be noted that the error count for 0 for both players in that opener…I love Paul's guttural shouts, so AllBlacks culture, I can hear/see the Haka every time, and it gives me goosebumps.
Paul looks good in the second, 4/1, but like I mentioned, he'll be penalised again and again, 5/5, 6/6, 8/8, 9/9, another stroke and Paul second error of the game/match, 11/9 for the young man, roaring to the crowd…
Third, Paul in control, but Mostafa working pretty hard, 16m for a 11/4 scoreline, mirrored in the next game, 4/0, 7/2 11/3 for the Egyptian, 10m.
The fifth. Again, close the whole way, a bit of warning for bad movement like I mentioned for Mostafa, 4/4, 7/5 Mostafa, 7/7, two video decisions let for movement.
At that moment, the Egyptian maturity stunned me. From the young mad puppy we saw at the start of the match, all over the place, we saw hatch a mature/calm/poised player, that changed his tactic completely at 8/8: slowing the pace to nearly a halt, taking the pace off completely, being more patient that I ever thought an Egyptian could be, he forced two errors out of Paul's racquet to set up 2 match ball.
Cue crowd.
Still patient, still working very hard, but Paul is pushing so hard, throwing everything at the young man, and it pays off, two errors out of the contender's racquet, 10/10. A backhand low drive kill sets up another match ball for Mostafa, a mammoth rally, and it's a winner for the Egyptian, or he thinks it is.
Without thinking, he switches to the culture he knows, football – as the celebrations he normally displays are in homage to a young football player that got very ill, Momen Zacharia – and gets rid of this shirt and throws it outside the court! Paul is livid, as he asked for a let. Video decision, it's a no let.
I wonder what would have happen had it been a let…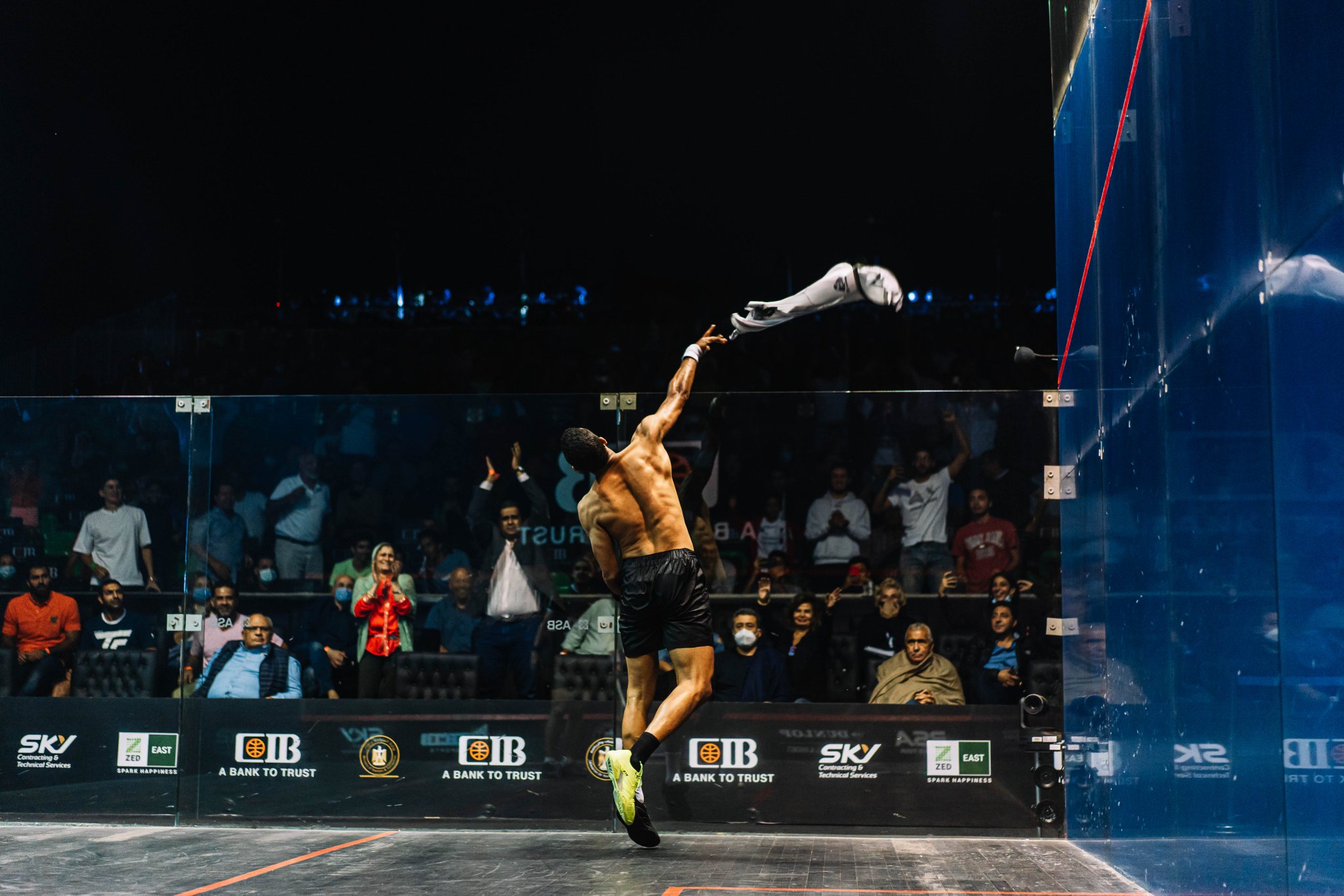 Mostafa

"Everyone who is Egyptian plays like this in this country.

"The support of this crowd is unbelievable. Without them, it wouldn't be like this."