[2] Paul Coll (Nzl) 3-2 [9/16] Fares Dessouky (Egy) 11-6, 8-11, 9-11, 11-5, 11-7 (83m)
It was a bit of a weird match that one…. It was very long to begin with, 83m. And I feel that Fares was starting to really feel the fatigue in the body. Especially in the 4th, where his back seemed to trouble him, maybe a few spasms.
First game, a bit like Tarek yesterday, Fares was troubled with decisions that seemed to make him get out of the opener mentally. A no let confirmed, and then a stroke overtuned into a let. The Egyptian hit at that point some of the worst shots I ever saw him play. 11/6 for Paul in 14m, and Fares commenting as he exited: I don't now how you make those two decisions….
But a good reaction in the second, 4/1, 6/2, 10/5. Paul who was a bit outplayed start to find his marks again, and will threaten the Egyptian, still, Fares manages to close it down in 17m, 11/8. Only 4 winners for Paul, 10 for Fares.
The third is one of the worst game I saw them play: we had 9 unforced errors in 13 points, I kid you not. ANd that includes 4 tins in a row from Paul!
Still, back to 6/6, 7/7, 8/8, 10/8, and on a stroke confirmed, it's 2/1 up for Fearless, 11/9, in 15m. Still 4 winners for Paul, 5 for Fares.
The fourth is like I said very weird. Was Fares' back bothering him? He started to play like a conditioned game: you cannot hit the ball, just soft shots… Very weird. In 7m, Paul has equalised, 2/2, 11/5.
And then the IOC Turned up!
Bless them, we had the visit of IOC President Thomas Bach,alongside Egyptian Minister of Youth and Sports, Dr Ashraf Sobhy, right at the start of the 5th. All the VIP seats for the first two rows had been cleared of course. They stayed 4 points, then left.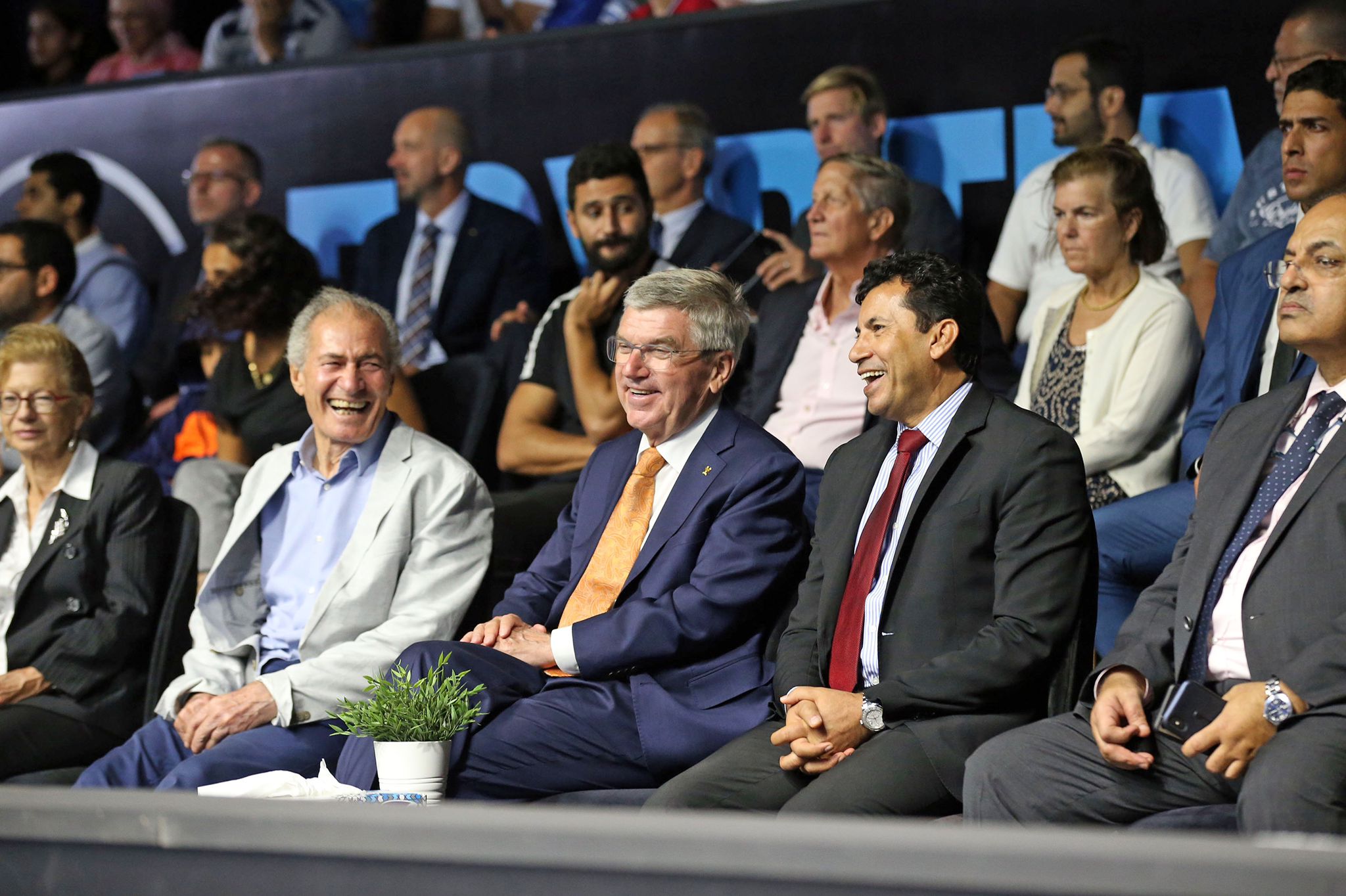 Back to the Match
The 5th, Fares seems back on song, 4/2, but Paul is controlling the pace, he makes it as slow, gruelling and painful as he can, and scores 6 points to reach 8/4. Another big push from Fares, 6/8, but Paul is just too strong, and Fares bows in a very long last game, 22m of hard work, 11/7, for the Kiwi.
A huge roar for Superman. That was a superb performance against a Fares that seems to be back at his best level…. Thank the Lord for that.
Paul
I thought I actually played well in the third. It was at a crucial time at 4-2, I made four mistakes from good positions and against someone like Fares who can hit so many winners, it's just suicide. I actually thought I should play well and hit my corners. But just those mistakes were just shocking. It was unforgivable. You can't do that and that's why I lost the game. But I thought I played well.

I was still trusting my shots and putting them in when I worked an opening, but it was good. I was happy with that performance. Even when 2-1 down I believed in myself really well.

[After the early defeat in the Qatar] I flew to my coach, Rob Owen, and had a good five days with him. And when we get on court together, we always know that I'm going to come off hitting the ball well. We get on really well a d we're really good friends. It was nice to go there, reset, get on court with him have a laugh. It just works well when we get on court together and I knew that if I went there for five days a week I would come out feeling good. I didn't have that before the season started because I didn't have an offseason, straight off the Commonwealth Games, which was taxing. So yeah, I was very happy with that.